Commercial Generators by Generac
Commercial Series 22-150 kW

Generac makes it easy and cost effective to customize the exact backup power system your business requires. These generators often pay for themselves in one power outage, easily backing up a wide range of applications. Backup your large home or business and everything in between.
What can automatic backup power provide your business in a power outage?
Keep you security system powered - protect your business from theft during a power outage
Insure against the cost of lost refrigerated goods - refrigerators and freezers never lose power
Keep your customers - your doors stay open to serve their needs in an emergency
Gain a competitive advantage- if your competitors are closed their customers will come to you
Safety for the community- schools, churches and municipal buildings can provide safety in an emergency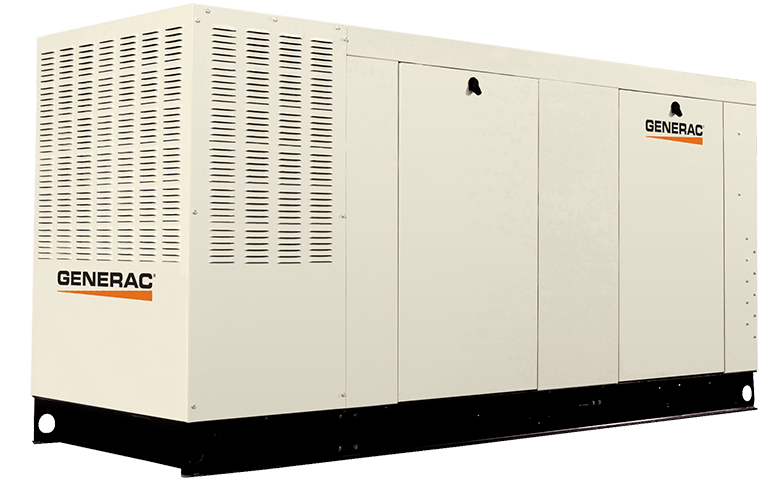 QuietSource Series 22 - 48kW

Premium features are standard for the ultimate standby generator. Thanks to the low-speed engine, it's so quiet you'll forget you own a generator until you need it. Ideal for large residential and small to medium commercial applications.
Low speed, automotive style liquid-cooled engine runs at only 1800 rpm during a power outage for a substantially quieter generator, greater fuel efficiency, and longer engine and alternator life.

Super quiet, super efficient, patented Quiet-Test™ mode for a weekly test mode that's quieter than other brands, consumes less fuel and helps make your Generac generator the most environmentally friendly on the market.

Standard aluminum, all-weather enclosure provides the ultimate protection from the elements. Aluminum's natural corrosion resistance prolongs the life of your generator and is recommended for salt-air, coastal locations.