Polson Electric - of Pittsfield MA
For all of your Electrical Generator and Electrical Service needs.
Generators - Sales - Service - Installation - Rentals
Since 1987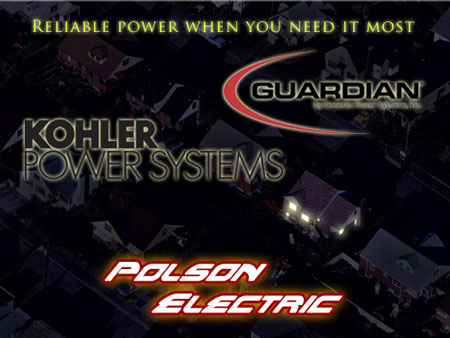 Polson Electric provides electrical services to Berkshire County and surrounding regions. As an electrical contractor in Pittsfield MA, Polson Electric installs and services a full line of Guardian and Kohler power generation systems and have been doing so since 1987. If you live in Pittsfield or other surrounding Berkshire towns and are looking for quality electrical service, look no further. At Polson Electric quality and customer service are top priority.
Some of our services:
24-Hour Availability
Amp Service & Upgrades
Bucket Truck Services
Code Violation Repairs
Computer Networking Services
Construction Services
Design Services
Emergency Electrical & Lighting Services
Estimates
Fuel Service
Inspection Services
Installation Services
Load Testing Services
Maintenance & Repair Services
New Construction Wiring Services
Remodeling & Renovation Services
Repair Services
Pick-Up & Delivery Services
Preventive Maintenance Services
Restoration Services
Rental Services
Rewiring Services
Electrical Service & Repair
Testing Services
Troubleshooting Services
Upgrade Services
Wiring Services